Transcript Productions
Our certified professional court reporters/transcriptionists deliver excellence in prompt production of transcripts. Let us help you with a full range of services, including:
Rough drafts
Real-time translations *
Keyword indexes
Expedited transcripts
Condensed transcripts
Audio transcriptions from cassettes, DVDs, CDs, digital media
ACT Transcriptions (Authorized Court Transcriptionist) (MAG - Ministry of the Attorney General)
* Real-time translations are made available in Caseview, which allows immediate transcript viewing as proceedings occur. A free downloadable, easy-to-use transcript viewer is available upon request.
ACT Transcription Orders:
Verbatim Reporting Services now has Authorized Court Transcriptionists to produce MAG - Ministry of the Attorney General transcripts.  For your ease of selecting an Authorized Court Transcriptionist, and to ensure that your transcript is delivered in a timely manner, let our office select one of our transcriptionists  to transcribe your next transcript.
To submit your Order Form:
Download the Order Form and fill it out from number 1 – 5.    Save a copy of your newly filled form to your computer in a location you can easily retrieve it from. Add any special comments or requests in the body of your email.  Then email  your  document to us at [email protected].  We will contact you after it is received.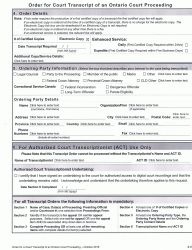 Get Your Transcript Production Services Today
You can rely on our professional, accurate and reliable transcript services. Start by filling out our online transcript order form or contact us.